When Donald Trump officially announced his candidacy for president at Trump Towers in 2015, he warned the audience before him of a 'bubble' in the U.S. economy:
Believe me, we're in a bubble. We have artificially low interest rates. We have a stock market that is so bloated. Be careful of a bubble. Because what you've seen in the past might be small potatoes compared to what happens. So be very, very careful.
At the time the Dow Jones was on 17,900 points, up 173% from the low of 6,547 set on March the 9th, 2009.
Trump maintained this narrative of a 'bubble' whilst addressing a rally six months later in Cedar Rapids, Iowa:
We could be in a big fat bubble…and if that bubble crashes it's a problem…the word bubble, remember the word bubble, you heard it here first… because honestly you got yourself problems.
The warnings continued into 2016, with Trump telling Fox Business on August the 2nd:
Interest rates are artificially low. If interest rates ever seek a natural level, which obviously would be much higher than they are now, you have some very scary scenarios out there. I mean the only reason the stock market's where it is is because you get free money.
The Dow had now breached the 18,000 level and continued to rise at a modest pace.
A month later – in the first of three presidential debates with Hillary Clinton – Donald Trump doubled down by continuing to insist that the U.S. economy was in a 'big fat ugly bubble':
We have the worst revival of an economy since the Great Depression. And, believe me, we're in a bubble right now. And the only thing that looks good is the stock market, but if you raise interest rates even a little bit that's gonna come crashing down. We are in a big, fat ugly bubble. And we better be awfully careful. Believe me, when the day Obama goes off and he leaves to go out to the golf course for the rest of his life to play golf, when they raise interest rates you're going to see some very bad things happen because the Fed is not doing its job.
On November the 8th (the day of the election), the Dow settled on 18,332 points, having largely moved sideways since the debates between Trump and Clinton began.
Donald Trump's victory over Hillary Clinton was initially met with despair in equity markets. Dow futures pointed over 800 points down, only to turn positive before daylight broke as investors weighed up Trump's campaign pledges to cut taxes and increase spending in a bid to elevate growth in the U.S. economy.
During his first speech as President in waiting, and in subsequent speeches thereafter, Trump made no mention of a 'bubble' in the economy. The focus instead was on putting 'America First' and creating more jobs.
And so began the 'Trump Rally'. The Dow was soon setting new records on a weekly basis, with Trump himself leading the charge via twitter. Here is a sampling:
July 31st 2017: Highest Stock Market EVER, best economic numbers in years, unemployment lowest in 17 years, wages raising, border secure, S.C.: No WH chaos!

October 11th 2017: Stock Market has increased by 5.2 Trillion dollars since the election on November 8th, a 25% increase. Lowest unemployment in 16 years…

January 5th 2018: Dow goes from 18,589 on November 9, 2016, to 25,075 today, for a new all-time Record. Jumped 1000 points in last 5 weeks, Record fastest 1000 point move in history. This is all about the Make America Great Again agenda! Jobs, Jobs, Jobs. Six trillion dollars in value created!
It was on January the 26th 2018 that the Dow set its all time high of 26,616, a 45% increase on where it stood fourteen months earlier when Trump was confirmed as the 45th president.
On January the 30th 2018, days before the Dow dropped twice by over 1,000 points, Trump stood before Congress extolling the virtues of a record setting market:
The stock market has smashed one record after another, gaining $8 trillion and more in value in just this short period of time.
In response to the sudden fall in equities (a fall that was prompted by higher than expected wage growth for January), Trump turned to twitter to express his disapproval at the markets reaction:
February 7th 2018: In the "old days," when good news was reported, the Stock Market would go up. Today, when good news is reported, the Stock Market goes down. Big mistake, and we have so much good (great) news about the economy!
Nearly two months on from this brief bout of volatility, the Dow Jones has failed to set any new highs and is 6% down on the record setting day of January the 26th.
***
What can be concluded from Donald Trump's changing stance on the U.S. economy? Firstly, his protestations about a 'bubble' in 2015 were entirely correct. The exponential rise in U.S. equities since 2009 has coincided with two key elements – the Federal Reserve's asset purchasing programme and corporations buying back their own stock using borrowed money at near 0% interest rates.
Below is a chart courtesy of FRED (Federal Reserve Economic data) which shows a direct correlation between the Fed's quantitative easing measures and a rise in the S&P 500 market up to 2016:
A decade ago, the Fed's balance sheet amounted to less than $900 billion. After QE3 ended in October 2014, the central bank held over $4 trillion in assets.
As for stock buybacks, this next chart courtesy of Bloomberg illustrates how over the past ten years corporations have been the largest buyers of stocks in the S&P 500.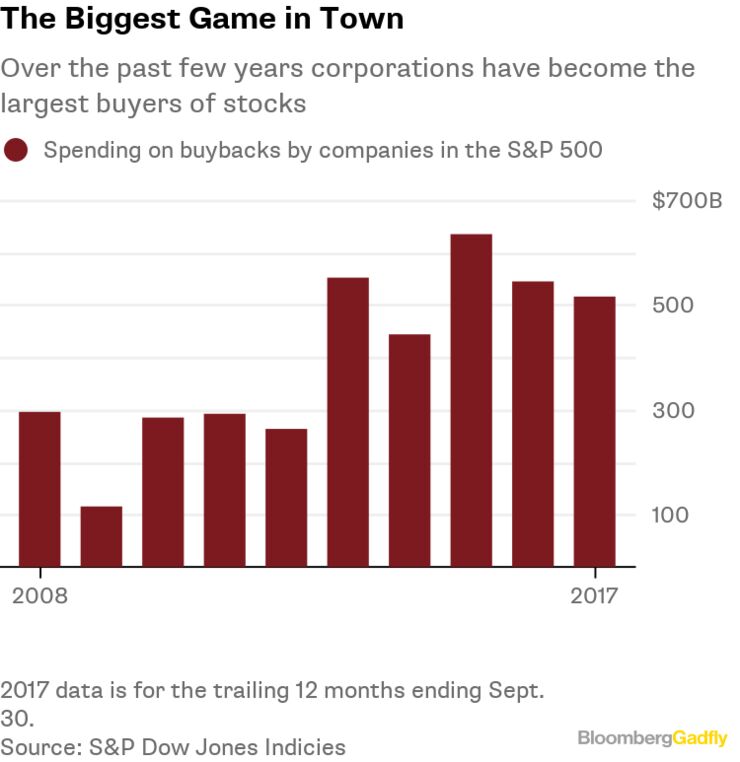 This artificial method of inflating a corporation's stock price makes the company appear more valuable. However, this sustained pattern of buybacks has originated with interest rates far below the levels of old. From December 2008 to November 2015, rates were at 0-0.25%. This is significant because corporations have been funding these stock purchases using borrowed money.
According to JP Morgan, recent corporate tax cuts implemented by the Trump administration means that the money corporations will save from this policy will likely result in an upsurge in buybacks. The bank estimates that for 2018 at least $800 billion will be spent on the practice, $400 billion of which would be funded out of the tax cuts. The source of funding for the other half is not as clear. But the bank did point out that purchases up to 2018 were predominately financed using borrowed money at low interest rates.
This brings us back to Donald Trump. If he was right to identify an economic 'bubble' with the Dow Jones on 18,000, it should have been only logical that he offer the same level of scrutiny as the market continued to advance under his presidency. The 'Trump Rally' (as it was quickly termed) has seen Trump become a prominent cheerleader for rising stocks. In effect, this means he has assumed ownership of the rally. On numerous occasions he has taken almost personal credit for one record high set after another.
Most intriguingly, Trump has associated market gains as testament to a healthy economy. The very opposite to what he was communicating prior to becoming president. The 'bubble' to which Trump no longer refers has only grown in stature over the past twelve months.
An important factor in this story is that pre-election, Trump was a vocal critic of the Federal Reserve's monetary policy. He publicly accused them of keeping interest rates artificially low as a method for supporting Barack Obama's tenure in the White House. He warned that even a slight rise in rates following Obama's departure would be enough to crash the economy.
Post election, Trump's stance could not be more divergent. Since the night of November the 8th 2016, the Fed have raised rates four times. Each of these hikes were conducted under the stewardship of former chairwoman Janet Yellen. As well as hiking rates, the Fed announced their balance sheet reduction programme in September 2017. The balance sheet then totaled $4.505 trillion. Today it is $4.454 trillion, a $50 billion decline. $40.8 billion of this has been in treasury securities. The pace at which they said they would unwind their assets has so far rung true.
Trump had spoken ill of Janet Yellen many times in the run up to the election. He told CNBC in September 2016 that she should be 'ashamed' of what she was doing to the United States, and charged the Fed with creating a 'false stock market'.
A year later, he was full of praise for the job Yellen had done whilst leading the Fed. He referred to her as a 'spectacular person' who had served with 'dedication and devotion'. At no time as rates began to rise did Trump seek to denounce Yellen, or accuse her of being 'political'. He could have easily used his global platform to question the timing and speed of the Fed's change in policy. What we have witnessed instead is Trump in subservience to the Fed rather than openly challenging their behaviour.
If anything, Trump's rampant enthusiasm for an ever increasing stock market has directed attention away from the Fed's actions.
With the introduction of Yellen's successor, Jerome Powell, as the Federal Reserve chairman, along with several new Fed governors, mainstream financials are now recognising the central bank as 'Trump's Fed'. In the build up to Powell's appointment, he was described specifically by the press as Trump's choice. The old guard of Yellen and vice chair Stanley Fischer have moved on. Fischer submitted his resignation weeks before the Fed announced its balance sheet reduction scheme, even though his tenure was not due to expire until June 2018. Likewise, New York Fed chair William Dudley (in place since 2009) is retiring in the coming months, despite his term running until January 2019.
Key figureheads who helped preside over the creation and maintenance of the 'bubble' are either removing themselves from public life, or, in the case of Barack Obama and Janet Yellen, being granted a safe exit as the Fed reverse course.
With Donald Trump's Republicans possessing overall control of Congress, and Fed chair Powell recognised as a Republican having previously worked in the administration of George H. W Bush, Trump is perfectly placed to be held culpable in the event of an economic downturn. Decisions emanating from the White House, such as trade tariffs, tax cuts and increased spending are all ammunition for the Federal Reserve to maintain their agenda of raising interest rates.
For instance, national debt in the U.S. has now exceeded $21 trillion, an increase of over $1 trillion since Trump was inaugurated. Annual deficits are estimated to grow throughout Trump's presidency. National debt almost doubled under Barack Obama, with the U.S. debt ceiling being raised on several occasions. Trump was less than impressed, accusing Obama in 2011 of 'destroying our country' and imploring that the debt limit should not be raised 'until Obama spending is contained.'
Six years later, Trump stated that he was open to eliminating the debt ceiling completely, allowing for unconstrained spending:
It could be discussed. There are a lot of good reasons to do that.
In summary, the glaring inconsistencies in Trump's narrative is either an expression of his own naivety or part of an insidious ploy to place America at the mercy of the Federal Reserve. Is Trump a stalking horse for the Fed? Whatever the truth, it is the central bank who have control over the fate of the U.S. economy. Every indication points to interest rates continuing to rise throughout 2018 and further shrinkage of the Fed's balance sheet, all in conjunction with increased government expenditure and geopolitical tensions.
The 'Great Financial Crisis' of 2008, triggered by the fall of Lehman Brothers, came with interest rates at 2%. At present, they are at the 1.25-1.50% level.
As we have seen, the correlation between stimulus measures and rising equities is clear. The Fed is now gradually becoming less accommodative by raising rates and selling assets. How long before the consequences of this are felt globally is open to question.
On the evidence so far, the 'Trump Rally' appears destined to mutate into the 'Trump Recession'. What is virtually assured is that it will be Donald Trump, not the Federal Reserve, who will be held liable in the event of a downturn.