It was announced this week that global debt has increased to a new record of $233 trillion (in truth it is much closer to $1 quadrillion as the 'official' figure does not include derivative contracts). The Independent picked up on the story by asking, 'Who has all this debt? Who is it owed to? What does this level of indebtedness mean?'. According to the Institute of International Finance (IIF), worldwide government debt now amounts to $63 trillion, with households accounting for $44 trillion.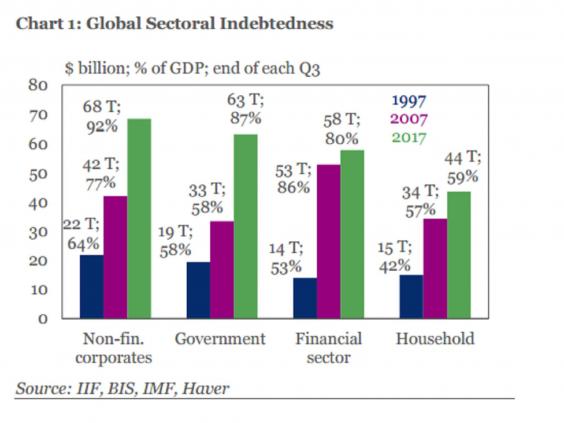 When answering the question of who global debt is owed to, The Independent's economics editor Ben Chu writes:
"Us" is the short answer. Every financial liability, which includes debt, has a corresponding financial asset. And all those financial assets are ultimately owned by someone.
If you put your money in a bank account the bank is likely to loan the cash out to someone else to buy a house: your financial asset thus becomes someone else's financial liability.
What Chu is describing in the second bullet-point is fractional reserve banking, a system which I have previously written about when discussing the Communist Manifesto. Unfortunately, Chu does not specifically name this method of money creation or explain how it works. By failing to do so he is either knowingly or unknowingly deceiving his readership.
Chu then states that, 'debt is a form of wealth', a conclusion that could not be more at variants with reality. Money created out of nothing (especially in the guise of a government bond), and then subsequently issued as debt in the form of currency, cannot be construed as wealth. The asset in this scenario amounts to a piece of paper which relies solely on trust to maintain its value.
When it comes to a mortgage or a car loan, the assets are self explanatory. But it is the manner in which the funds for these assets are generated that Chu opts not to question. Fractional reserve banking creates money into existence as debt (at no cost to the lender), and what makes the scam profitable for a select few is the rate of interest charged on this debt which you and I are liable for.
The monetary fiat system has no limitations given that it is no longer constrained by a gold standard. As a result, global debt has ballooned to the heights we see today.
Finally, Chu comments on government debt where he says:
This is a special case because governments, generally, can raise money through taxation and thus effectively control their own income. They also often borrow money in a currency they themselves print, meaning that, in extremis, they can ensure lenders are paid back by printing money.
The notion that the government have control over the money supply, and thus are responsible for printing money, is false. Central banks, along with private banking conglomerates, have sole jurisdiction over this process. The latest figures from the House of Commons library reveals the level of interest that the government is currently paying on it's debt (and by extension, the public's debt). In 2016/17, that figure came to £48.7 billion – which is more than some government departments receive in funding. For 2017/18, the estimated £49.9 billion in extra borrowing is tipped to increase interest payments to £54.7 billion.
Chu's analysis begs one straight forward question – why would a government need to borrow money from a third party if it already had the power to print the money itself? The fact that questions such as this are not asked within the sphere of the mainstream indicates how ingrained the fraudulent system of fractional reserve banking truly is.
---
Global debt rose to a record $233 trillion in the third quarter of 2017, more than $16 trillion higher from end-2016, according to an analysis by the Institute of International Finance. Private non-financial sector debt hit all-time highs in Canada, France, Hong Kong, South Korea, Switzerland and Turkey.
The debt pile could end up acting as a brake on central banks trying to raise interest rates, given worries about the debt servicing capacity of highly indebted firms and government, the IIF analysts wrote.
---
The Bureau of Labor Statistics reported today that the economy added 148,000 jobs in December, which is down a fair amount from the previous two months, and falls short of expectations.
Providing some additional context, now that we have data for all of the previous calendar year, we can note that the U.S. added 1.84 million jobs in 2011, 2.19 million jobs in 2012, 2.33 million in 2013, 3.11 million in 2014, 2.74 million in 2015, 2.24 million in 2016, and 2.05 million in 2017.
---
British consumers increased their borrowing by the smallest amount since mid-2015 in the three months to November, suggesting households are slowly reining in spending, Bank of England figures showed on Thursday.
Britain's economy saw lackluster growth for most of 2017 – especially compared to its faster-growing neighbours – and Thursday's BoE data suggest this pattern continued toward the end of the year.
The central bank said unsecured consumer lending in the three months to November grew at an annualised rate of 8.5 percent, down from 9.3 percent in the three months to October and its weakest since June 2015.
---
Federal Reserve officials expect reductions in corporate and personal taxes to boost consumer and business spending, though they remain unsure of the impact of the new tax law, according to minutes released Wednesday from their December meeting.

"Most participants indicated that prospective changes in federal tax policy were a factor that led them to boost their projections of real GDP growth over the next couple of years," the minutes stated.
---
The productivity of British workers has increased at the fastest rate in more than six years, handing the government a rare boost in correcting one of the biggest problems facing the UK economy.
Labour productivity, or economic output per hour worked, grew by 0.9% in the three months to September 2017, the Office for National Statistics

 said. Economists said the jump came thanks to stronger growth in factory output, weaker jobs growth and the UK economy generating broadly the same amount of output for fewer hours worked.
---
House of Fraser (HoF), one of the UK's biggest department store chains, is seeking to slash its rent bill, stoking fears of further casualties on an increasingly embattled high street.
Sky News has learnt that HoF has contacted an undisclosed number of the owners of its 59 UK outlets to ask for substantial rent reductions.
The state of HoF's finances has been the subject of speculation for months, and was not aided by Moody's, the ratings agency, which described the chain as "a very high credit risk" last month.
---
Debenhams has issued a profit warning and refused to rule out job losses after a weak festive season – its shares falling 24% in response.
In a trading statement that was brought forward from next week, the retailer said it had been forced to slash prices to boost flagging sales – describing business as "highly competitive and volatile".
The department store chain said like-for-like sales in the 17 weeks to 30 December in its core UK market fell 2.6% overall.